CTAS Live Features:
Live Streaming Video and Audio.

Available World Wide.

Online Support via TXT

Fully self contained

Your Event Live on the Internet

Sound Commentary embedded in Live Feed

Additional Sound feed available

DVD Recordings available on request

Event can be uploaded for viewing later

Broadcasts can be free or Pay Per View

Live Timing Software available as well.
Provide video streaming of your event to a world wide audience by contacting us. Your event can be streamed for you, so you don't have to worry about a thing. We cover anywhere in NZ, and have the complete setup, to ensure your presentation is completely professional, and great quality.
We have streamed from many locations, from Auckland to Invercargill. Go to our http://www.ctaslive.co.nz web site for more details, and look at the map for the many places we have streamed from.
Mobile Friendly:
View Live Streaming and Post Event Viewing on most devices.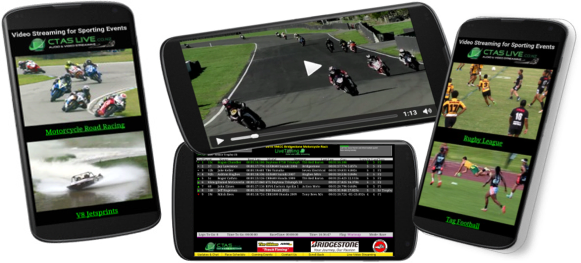 CTAS Live 1000:
Last summer, on 8th March, 2015, we celebrated achieving more than 1000 hours of Live Streaming here in NZ. This was a huge milestone, and something that we are proud of. While some other companies will charge a lot and stream for short periods of time, we have provided services for national events, often streaming for complete days without a break. Having achieved 1000 hours was representative of this large amount of streaming.
CTAS Live Testimonials:
You will be amazed at how good this is. We don't provide full television quality as the costs would make this less achievable to many NZ events, but we do provide reasonable quality, and at a suitable bandwidth so that your viewers can watch your event without stuttering, pixelation and frameloss. Refer to our references at the http://www.ctas.co.nz website, for customers and viewers feedback.